Custom Birthday Songs Example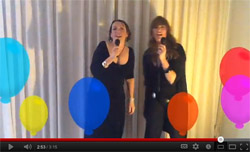 See a YouTube video of "100 Years of Mayhem", featuring a song with music and personalized lyrics by Andrea Carter of Song Legacy. The wives of two close friends who were both turning 50 arranged for Song Legacy to create this song with original lyrics celebrating the lives of the two guests of honor. Andrea was the vocalist on the recording of the song, and then the wives and their children and friends created a video including lip-synching to the sound track, then played it at the combined birthday party. The two guests of honor and the 163 guests were all delighted with "100 Years of Mayhem", which was the highlight of the party.

More About Custom Birthday Songs
The lyrics for your custom birthday song will be written from scratch, based on information you provide us as answers to a questionnaire that we'll send you. You can choose the music for your song from a large collection of original music in a variety of styles. These selections are all original compositions written by our composers. The song will be recorded by a talented professional male or female vocalist. You have the option of including an illustrated lyric sheet and CD jacket cover, using custom graphics and your photographs. Before preparing the final recording, we'll set up a private web page where you can listen to your song and also see the lyric sheet and CD jacket cover (if you have selected the graphics option). Then we'll deliver the final song, lyric sheet and CD jacket cover on another private web page for you to download, or we can ship a CD and lyric sheet to you via USPS or FedEx.


Cost:
The cost of a personalized birthday song starts at $749 USD.
Songs are generally between 3 and 4 minutes long. If the length is extended due to more information you'd like included in the song, additional fees may apply. There are also additional fees if you request a duet rather than a solo performer. Shipping and handling charges apply only if CD creation is selected. (See
Delivery Methods
for details.)
Extra charges apply if order is received with fewer than 14 days notice for electronic delivery, 21 days for CD shipments within the US, and 30 days for CD shipments outside the U.S.
Delivery Methods:
We offer a choice of two delivery methods for personalized songs:

(1) Electronic delivery: We'll prepare a private web page with an MP3 file of your personalized birthday or Quinceanera song. If you order the graphics package, we'll also prepare pdf files of the lyric sheet and CD cover images. You can download these files to your computer, write the song on a CD (using a program on your computer to create music CDs from MP3 files) and print the lyric sheet and CD cover pdf files. There are no shipping and handling charges for electronic delivery.

(2) CD Creation and Shipping: We'll create a CD with your custom birthday song or Quinceanera song and insert the personalized CD cover in the CD jacket. We'll print your lyric sheet(s) on high gloss protected sheet(s), and ship the CD and lyric sheet(s) via FedEx or postal mail. Extra charges starting at $65 will apply for CD preparation, shipping and handling (depending on the shipping method and destination).


To inquire about our products or ask us questions, use our Contact Form or phone us at the number listed below.

To learn more about the procedures for purchasing your personalized song, see Buying a Custom Song (opens in new window).

Go to the Song Legacy website for more information about available products for other occasions such as Valentine's Day, Mother's Day, weddings, anniversaries, retirement, and many others.

Prices subject to change.